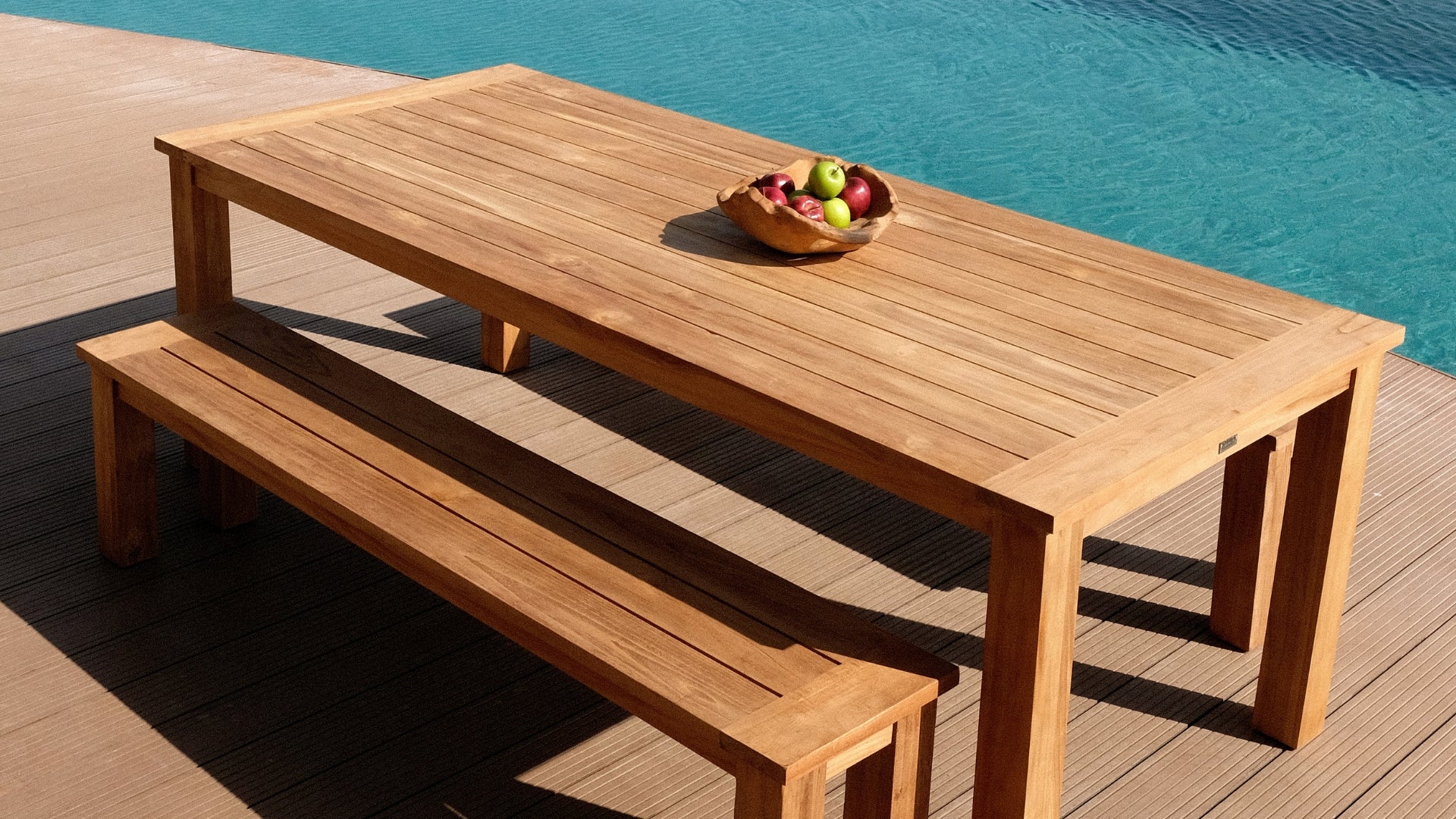 Which Materials are Best for Outdoor Furniture?
Choosing the best material for outdoor furniture is extremely important. The materials selected must be durable and able to withstand the harsh Australian climate. Outdoor furniture made from inferior materials is a a high risk of splitting, cracking, fading and tearing. 
At Eden Living we only use the finest materials for outdoor use here are some of our suggested materials: 
TEAK
The supreme timber for outdoor use, teak will not rot or warp and is sustainable, made from reclaimed timber. Teak furniture is an excellent choice for outdoor living and with regular maintenance will provide years of loyal service.
To maintain Teak furniture in the best possible condition we recommend Golden Care® products. Golden Care® keeps outdoor furniture looking new and gives it long term protection against the effects of the weathering process. And at the same time, cause minimal impact to the environment and human safety and comfort.
WICKER
Wicker is stylish, low-maintenance, lightweight and highly durable. Quality wicker furniture is made using synthetic polyethylene (HD PE) material which is both UV resistant and 100% recyclable. 
The great thing about wicker is that it doesn't require any ongoing maintenance, and will continue to look good and perform well even in the harshest of climates. Additionally wicker is highly resistant to mildew, fading, sagging, staining, tearing and cracking.
ALUMINIUM
Aluminium is an ideal metal for outdoor use as it highly durable but also lightweight. Quality aluminium furniture should be coated with environmentally friendly paint to minimise scratching and chipping.
Aluminium does not rust so the furniture can be kept outside all year around and is corrosion resistant meaning that it will not rust, irrespective of how long it is kept outdoors. The result - low maintenance outdoor furniture which is durable enough to withstand the harshest weather conditions. 
RESIN
When selecting your outdoor furniture you need to consider a few factors like, will it be in the direct sunlight? If this is the case then resin furniture might be an ideal choice for you. It is lightweight, UV and fade resistant, and does not require maintenance.